Keep Christ at the center, the Word of Truth in your heart, and the traditional teachings of the Catholic Church as the guardian of your soul.
Our server will be down for maintenance the afternoon of Sunday August 1, 2021 (New York Time).
Mark your calendars for upcoming events
Join our BOOT CAMP to build your FAITH MUSCLES : Begins July 31
☆ Now available! ☆ "My Soul Shall Be Healed" book on the Eucharist
INSIDER'S VIEW
The weekly news of Good News Ministries
For you this week:
Reflection for Saturday: What to do about the weeds growing in our Church
Next Smart Event: FAITH MUSCLES BOOT CAMP - Get stronger faith!

Inside the Ministry: Pope Saint Pius X showed up last week
Mercy Unbound podcast: Who is the Holy Spirit and why do we need Him?

Saturday July 24, 2021
Exodus 24:3-8
Psalm 50:1-2, 5-6, 14-15
Matthew 13:24-30
bible.usccb.org/bible/readings/072421.cfm
Podcast:
bible.usccb.org/podcasts/audio/2021-07-24
Saints Calendar:
gnm.org/saints-find/saints-calendar
"Master, did you not sow good seed in your field? Where have the weeds come from?" He answered, "An enemy has done this." (From Saturday's Gospel reading)
---
Reflection for Saturday:
What to do about the weeds growing in our Church
I have the incredibly important responsibility of teaching the truth. To do this, I've studied Church documents and the Catechism -- the orthodoxy provided to us by the traditional Church Magisterium.  I want to make sure I understand the truth as accurately as possible.
And I have the responsibility of standing firm, unwilling to compromise the truth. For this reason, Good News Ministries has been rejected, including by some significant donors. And I personally have been rejected by friends and family. It's the nature of this time that we're living through.
We all have this responsibility. And when we're rejected, our consolation is that we're living through a very interesting time, a period of purification in the Church and in the world. God is exposing evil in his holy light. It's difficult to watch, but it's good! The followers of Christ who have been sitting on the proverbial fence, with one foot in the Church and one foot in the world, are finding the fence to be more and more painful. They're getting an important opportunity to see what they've been ignoring and to repent and wholeheartedly jump fully into God's kingdom.
In this Saturday's Gospel reading, Jesus talks about the weeds sown by the enemy. His picture of a field of wheat infected with weeds is what our Church has been looking like for a long time. The weeds are the people who've been choosing moral relativism instead of the commandments of God. They've chosen "political correctness" instead of the counter-cultural ways of Christ. They've been protecting their image instead of humbly laying down their lives for sake of protecting the sheep of Christ. They've closed their minds to the uncomfortable truths that challenge the worldview they've adopted.

Notice how Jesus handles the problem. In loving compassion, he holds off the uprooting of the weeds, lest good people get pulled away with them. But this can't last forever because the weeds are spreading.

Jesus is teaching us an important lesson in this parable. How are you and I handling the weeds? Do we care enough to speak the truth in the hope that weedy bishops, priests and laity will listen and repent? Do we lovingly pray for public figures who claim to be Catholic yet promote abortion, discriminate against truth-tellers, or encourage other immoral activities? Do we care about the eternal souls of "Christians" who are in mortal sin -- enough to speak up before it's too late?
Jesus warned that the time of merciful waiting for repentance will come to an end: "At harvest time I will say to the harvesters, 'First collect the weeds and tie them in bundles for burning; but gather the wheat into my barn.'"
What weedy people do you know personally? Pray that God will not let them die before they are ready and willing to spend eternity with Jesus. I've found this prayer to be very effective. This is God's desire for them, and your prayer will unite with God's power as he holds off their weed-pulling time.
For more, read my WordByte entitled, "A frank analysis of what's running amuck in our world" @ wordbytes.org/faqs/moral-relativism.
---
FAITH MUSCLES BOOT CAMP - Get stronger faith!

BOOT CAMP BEGINS SOON! The weekly program begins July 31 and ends just before Christmas.

Is this right for you? Yes, if you're serious about having a stronger relationship with God and an empowered faith. Yes, yes, yes!

Do you have time for it? This boot camp is easy to add into anyone's life, no matter how busy you are. The videos are short and only once a week, giving you an entire week to put into practice the spiritual exercise that the video explains. Some of them you might already be doing!
By the end of the program, you'll be a champion spiritual-weight lifter because you'll have strong faith muscles.

See the introductory video: gnm-media.org/faith-muscles-boot-camp.
Why a "boot camp"? Read the story behind this boot camp.
How does it work? Every weekend you will receive a short video with a new spiritual exercise to do throughout the upcoming week. They start easy and get a little harder or cumulative each week. They are assigned to you on weekends so you can use them to help keep the Lord's Day holy.
Choose to have them emailed to you and/or texted to your phone on the Telegram app.
Cost: $25 (suggested donation; scholarships are available)
Hurry! Register before July 31. No later-comers are accepted. Sign up now!
---
Inside the Ministry:
Pope Saint Pius X showed up last week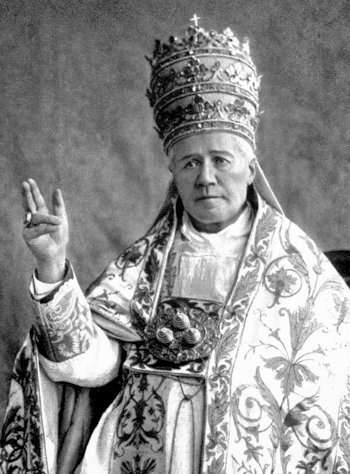 The same day my new book My Soul Shall Be Healed came out in print, Pope Saint Pius X showed up. I didn't ask for him, but there he was! His name showed up twice at the start of my day. It felt like I was supposed to pay attention to it, so I asked the Holy Spirit what was going on. Had God assigned him to become another of my patron saints? If so, why? Did Saint Pius X really know about me? If so, why me?
So I asked for confirmation: "Make his name show up one more time today -- and it has to be today -- if it's true." Near the end of the workday, there it was again, a third time.
But why?
I researched him on the internet. Cardinal Giuseppe Sarto reluctantly became pope in 1903. As Pope Pius X, he chose to be more approachable than his predecessors. He often sneaked out of the Vatican to visit the sick in local hospitals. He improved priestly formation, liturgies and music, and he insisted on good preaching from his priests and bishops. 
What I've long remembered him for is his passionate love of the Holy Eucharist and his awareness of how important it is to receive Communion. Few people were receiving the Eucharist when he became pope, because they had erroneously been taught that Communion should be received only once a year, or only after Confession, because no one was holy enough. The Council of Trent (1545–63) tried to overcome this heresy but it was Pope Pius X who succeeded.
He is known as the "Pope of the Eucharist" because he called for frequent Communion for adults and he lowered the age of First Communion. He promulgated sacramental preparation for children and catechesis for everyone.

From 1905 to 1910, Pope Pius X issued a series of decrees and clarifications emphasizing that no one in the state of grace should be prevented from approaching the "holy table", that it is not necessary to go to Confession over venial sins before receiving Communion if the person is sincere about the Penitential Rite during Mass, and that children should be encouraged to receive frequently, even daily, after First Communion.
Today we need clarification once again, but not because of the idea that even repentant people were not holy enough to receive the Eucharist. Now it's the opposite: There's an influential effort to make it okay for unrepentant sinners to receive the Eucharist.
Pope Pius X died on August 20, 1914. His tombstone is engraved with the words that are also my own heart's desire: "Pope Pius X ... gentle and humble of heart, unconquerable champion of the Catholic Faith, whose constant endeavor it was to renew all things in Christ."
I strongly suspect that the reason why Saint Pius X connected up with me the day my book came out is because of its theme. He's now the patron saint of this book, and I'm asking for his help in getting it out far and wide.
(Note: My connection to this Saint is not to be confused with the Society of Pope Pius X, a schismatic offshoot of the Roman Catholic Church founded by Archbishop Marcel Lefebvre, which insists that Mass should only be celebrated in Latin.)
My Soul Shall Be Healed explains in ordinary language how to understand the very important encyclical Ecclesia de Eucharistia (The Church of the Eucharist) by Pope Saint John Paul II. You'll be able to apply it to your personal life. You'll discover how to develop a closer relationship with Jesus in the Eucharist. You'll find out – with clarity — what Catholics believe and do not believe about the Eucharist.
I first taught this as a course in St. John the Baptist Major Seminary, Malawi, in 2001 on a mission trip. All of the seminarians and their professors attended it, as did their bishop as well as diocesan catechists. In 2003 I reproduced it as an online course. Later I converted it into an ebook sold by Catholic Digital Resources @ catholicdr.com/e-books/the-church-of-the-eucharist.
Now is the time for a paperback book. This is very timely! Due to the big controversy about Joe Biden and other pro-abortion politicians in the US receiving the Eucharist without first repenting, the United States Conference of Catholic Bishops is preparing a "Document on the Meaning of the Eucharist in the Life of the Church". ⭐ My book My Soul Shall Be Healed clarifies everything through the inspired words of Saint John Paul II.
Over the next three years, every diocese in the US will (according to current plans) encourage parishes to provide adult faith formation on the Eucharist. Regardless of whether or not you live in the US, if you want this book for parish study groups and/or evangelization, let me know and I'll give you a bulk order discount. (If shipping costs are too high for where you live, I can give you a downloadable PDF.)
Now is the time to lay the groundwork! Help me get the word out!
Now more than ever Catholics need access to clear teaching on the TRUTH about the True Presence of Jesus in the Eucharist, the TRUTH about how attending Holy Mass is meant to heal our souls, and the TRUTH about how to evangelize with the Mass.
For more info, go to gnm.org/terry-modica-author/my-soul-shall-be-healed.
Or go directly to the ordering page at Charis Publishing: charispublishing.com/products/my-soul-shall-be-healed-by-terry-modica
---
Who is the Holy Spirit and why do we need Him?
(Mercy Unbound podcast)
Dr. Bryan Thatcher interviewed me for his podcast show, Mercy Unbound. He is the founder of the Eucharistic Apostles of the Divine Mercy (thedivinemercy.org/eadm), which is now a lay apostolate of the Congregation of Marians of the Immaculate Conception. EADM is active in over forty-five countries worldwide.

Come and see what we discussed about the Holy Spirit: drbryanthatcher.com/blog/why-we-need-gifts-holy-spirit

---
God bless you!
Every morning, I lift up in prayer everyone who helps Good News Ministries in any way (donors, volunteers, prayer supporters, etc.) and all the prayer requests posted on our site.

Thank you for reading this newsletter.
Your servant in Christ,
Terry Modica, Executive Director
Good News Ministries
gnm.org
Let's connect in GNM's community: See you there! 

Keep your eyes on Jesus!
And when you have to look at others, see them through his eyes.
Please minister to others by sharing this newsletter: Click the heart if you are reading this by email. Then share the page anywhere you can reach the people you care about.