Keep Christ at the center, the Word of Truth in your heart, and the traditional teachings of the Catholic Church as the guardian of your soul.
INSIDER'S VIEW
The weekly news of Good News Ministries
For you this week:
Reflection for Saturday: How to hear the voice of God
Inside the Ministry: What people are saying
This week's WordBytes faith-builder: Who condemns you? Not God!
Footsteps to Heaven podcast: The virtue that releases faith
Saturday January 15, 2022
1 Samuel 9: 1-4. 17-19; 10: 1
Ps 21: 2-3. 4-5. 6-7
Mark 2: 13-17
bible.usccb.org/bible/readings/011522.cfm
Podcast:
bible.usccb.org/podcasts/audio/2022-01-15
Saints Calendar:
gnm.org/saints-find/saints-calendar
Jesus said to him, "Follow me." And he got up and followed Jesus. (From Saturday's Gospel reading)
---
Reflection for Saturday: How to hear the voice of God
When Jesus says, "Follow Me," how do we know it's Jesus and not just our own imagination? Those of us who are already following Jesus need to be constantly on the alert for more "Follow Me" commands.
In every decision we face, where is Jesus and what is he trying to lead us into?
Are there any areas of our lives where we are not following Jesus? If so, what voices are pulling us away from the will of God?
Jesus said, "My sheep hear my voice and they follow me" (John 10:27). As our Good Shepherd, he wants what is best for us -- from the perspective of the Kingdom of God. We wish we could hear his voice clearly every time he speaks to us. He is never silent. He loves us too much to deny us any information that could help us follow him well.
Meanwhile, there are many wolves in shepherd's clothing who demand our obedience, not the least of which is our own misdirected will. Here's how to successfully sort the voice of Jesus from all other voices and noises:
1. Relationship with Jesus
2. Repentance
3. Renewal through the Holy Spirit
4. Relationships with others who are also filled with the Holy Spirit
(1) To hear the voice of Jesus and follow it, first we must be in a good relationship with him. We need to know him as our Savior without whom we will never reach Heaven. We need to know him as a personal friend who cares about us. We need to relate to him by connecting our lives to his life, our burdens to his burdens, our sufferings to his sufferings, and our joys to his joys.
(2) Next, we must examine our consciences in light of scripture and the traditional teachings of the Church: What have you heard that you have rebelled against? We must examine our decisions: What are you deaf to because you'd rather believe it's really not from Jesus? We must examine our lives: What area of your life is not fully given over to Christ and filled with Christ? (For example, are you sure that all of your political views have been taken over by Jesus Christ? Have you voted for a politician who has policies that are anti-christ, anti-life, immoral?) Whenever we cannot hear or we fail to hear the voice of Jesus, we need to admit that we've been separating ourselves from him, we need to obtain supernatural grace through the Sacrament of Reconciliation, and we need to desire to increase our holiness with the help of the Holy Spirit.
(3) To hear the voice of Jesus and follow him well, we definitely need the help of the Holy Spirit. We must have a personal relationship with the Holy Spirit. Give the Holy Spirit permission to take over your life, your heart, and your soul. Start every morning with a prayer something like this: "Come Holy Spirit, fill me. Come Holy Spirit, open my ears to hear Jesus. Come Holy Spirit, change me."
(4) To discern the voice of Jesus amidst uncertainty and contrary voices, we benefit greatly from relationships with others who are also filled with the Holy Spirit. God confirms what he's telling us by reiterating it through Christian community. It's possible to successfully hear him in our hearts and yet remain uncertain. We long to hear God externally, in an audible voice. Although sometimes he does it that way, he usually echoes what he has spoken to our hearts through other externals (for example, a supernatural Word of Knowledge that someone speaks in a prayer meeting, or a friend being anointed during prayer and receiving an idea that matches what you've been thinking).
Good News Ministries is one of your Christian communities. I'm so glad that you are part of my community! As one of your Spirit-filled friends, I recommend my course on "How to Hear the Holy Spirit".
---
Inside the Ministry: What people are saying
From Carol Jones: "Received Terry's new book this week, 30 days to the Father's Heart. What an incredible book (thank you, Terry), so needed for these times when we are all trying to discern the Father's Will but we all need to get to really know the Father and trust Him and His love for us. What an eye opener this book is!"
For more info about this book, see 30daystothefathersheart.com.
From Peg: "I will be donating this coming week. I feel I have learned and gained so much insight and information that has helped me to move forward in my journey with GNM's podcasts, daily reflections, and WordBytes. May God bless you and your husband's ministry. I look forward to listening to more podcasts and reading your daily reflections."
A new season of the Footsteps to Heaven podcast show will be starting soon. Subscribe at footstepstoheaven.com.
From Selina Lai: "I am part of a sisterhood Catholic group centered on marriages and family themes based in Singapore. Amongst our fellow sisters in Christ, we are just so inspired by GNM's sharings, scripture reflections, the Telegram retreats etc -- truly wonderfully made and thank you for all the hard effort. Praise God for such a wonderful team and such an awesome platform!"
Join us on the Telegram app. Design your daily program of faith-builders by choosing from our Telegram channels and groups. You can have the Good News Reflections, Saint of the day, and other offerings texted to you. It's a free app and is easy to use -- better than WhatsApp. See what we're doing on Telegram; visit gogoodnews.net/texted-to-you.
---
Bible Boot Camp begins January 17

Bible Boot Camp is an intensive, 21-part telling of THE STORY IN THE BIBLE.
Have you heard of Fr. Mike Schmitz's 365-day podcast "The Bible in a Year"? My podcast series "The Story in the Bible" will take you through the entire Bible in just 21 days by relaying it to you as a story. This is ideal for those who have already taken Fr. Mike's course and for those who just want to absorb the Bible faster. Make a commitment to listen to the daily podcast -- a half hour a day -- and you will be very glad you did!
This boot camp is a thorough over-view of the entire Bible from Genesis to Revelation, in story-telling fashion. It's the story of Jesus. It's the story of salvation. It's also the story of your own life! Find out how it all ties together. Transcripts with maps and illustrations are included.
Sign up today at elists.gogoodnews.net/dada/mail.cgi/list/eclass.
---
This week's recommended faith-builder:
Who condemns you? Not God!
Jesus said he does not condemn us, not even when we sin. He is not the one who judges us (see John 12:47-48). Nor is the Father. We know this because Jesus told us that by knowing him we also know the Father (John 14:7). Nor does the Holy Spirit condemn us. We are loved deeply and completely, no matter what.
So, who is it that judges us and condemns us when we sin? We do. At the hour of our death, in our passing from limitations to the limitlessness of God's kingdom, we will see and understand God fully, and we will fully know who we truly are as his children who were created in his image, and we will be able to judge how well we lived up to our true character. We will condemn everything we did that was not our true Self.
Let us use today and the rest of our earthly lives to discover more and more truth about who God really is and what his character is really like, contemplating on how this is who we truly are and this is what our character is truly like.
For more on this, visit wordbytes.org/spiritual-growth/who-condemns-you.
WordBytes is a library of Catholic faith-building articles by Good News Ministries. Come on in and explore! Visit WordBytes.org today.
---
The virtue that releases faith (rebooted podcast)
A new season of Footsteps to Heaven will begin soon! Meanwhile, find out how submission to the Holy Spirit enables us to recognize the voice of Jesus and hear his guidance. Become more aware of his concern for you. Discover his desire to work miracles in your life. In this podcast, I share stories from my life to illustrate how this virtue releases supernatural faith. I include a simple, easy but life-changing spiritual exercise.
Listen to this podcast @ gnm.org/footsteps9.
See also:
What's God doing in today's evil world?
Here's an excellent video that answers the question, "What is God doing in today's evil world?" — from a prophetic perspective. Produced by Renewal Ministries, I believe it's very important to share because Peter Herbeck reveals what God is doing to bring all people to himself — including your loved ones who have been rejecting Christ and choosing the ways of the world. Good News Ministries is here to help bring about the faith growth that Peter challenges us all to focus on so we can be at peace in the midst of an evil world and participate in God's glorious plans!
Watch the video @ gnm-media.org/whats-god-doing-in-todays-evil-world
Sign up for early access to GNM podcasts: New episodes of the podcast show Footsteps to Heaven are published before this newsletter can announce them. You can get early access to both video and audio versions. Subscribe at gnm-media.org for the podcast videos or at footstepstoheaven.com for the audio-only version.
---
God bless you!
Every morning, I lift up in prayer everyone who helps Good News Ministries in any way (donors, volunteers, prayer supporters, etc.) and all the prayer requests posted on our site. What can I cover in prayer for you? Post your prayer request.
How else can the team and I serve you today? Visit our homepage.
Thank you for reading this newsletter.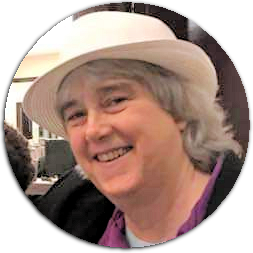 Your servant in Christ,
Terry Modica, Executive Director
Good News Ministries
gnm.org
Let's connect in GNM's community: See you there! 

Please minister to others by sharing this newsletter: Click the heart if you are reading this by email. Then share the page anywhere you can reach the people you care about.