For you this week:
Reflection for Saturday: When is divisiveness holy?
Inside the Ministry: Meet the staff
Terry's Corner: Coming in August
This week's WordBytes faith-builder: Dealing with the Doubters Around Us
Footsteps to Heaven podcast: Do you know how much the Father loves you?
This week's Trivia Challenge: What language is the New Testament originally written in? (Check your answer at the end of this newsletter.)
---
Saturday July 9, 2022
Isaiah 6:1-8
Psalm 93:1-2, 5
Matthew 10:24-33
bible.usccb.org/bible/readings/070922.cfm
Podcast:
bible.usccb.org/podcasts/audio/2022-07-09
Saints Calendar:
gnm.org/saints-find/saints-calendar
What I say to you in the darkness, speak in the light; what you hear whispered, proclaim on the housetops. And do not be afraid of those who kill the body but cannot kill the soul…. (From Saturday's Gospel reading)
---
Reflection for Saturday: When is divisiveness holy?
Are we supposed to stay silent about the truths of the Catholic Faith when we're with those who have fallen prey to worldly thinking and the false teachings of Satan? They don't want to hear the truth.
Anti-Christian sentiment has grown a lot stronger and become more obvious. We're berated and condemned and sometimes even beaten for not agreeing with sinners. Almost all of us have lost relationships because the truth is divisive.
In Luke 12:51-52, Jesus tells us, "Do you think I came to bring peace on earth? No, I tell you, but division. From now on there will be five in one family divided against each other, three against two and two against three." It's the harsh reality of remaining true to Christ.
In Matthew 10:28, Jesus tells us to "be not afraid" of speaking the truth. Even when there might be repercussions, we need not be afraid. If we have the attitude of, "Yes, I'm willing", the Holy Spirit gives us the words and the supernatural, joyful peace that reassures us of our union with Christ.
In verse 27, Jesus is telling us today: "What I say to you in the darkness of today's world, speak up about it in the light of my Mercy. What the Holy Spirit's quiet voice tells you to say, proclaim it from the housetops (i.e., boldly and confidently). And do not be afraid of those who might attack you. Even if they kill you, they cannot kill your soul; you will go straight to Heaven!"
Push past your initial trepidation and you too will experience supernatural, joyful peace from the Holy Spirit, Who is always ready to make it easier than you imagine it will be.
But realize this: Gone are the days when we could convince unbelievers of the truth by explaining it them. Today we live in a world where sins have been multiplying for a long time and thus the influence of demons is stronger than ever. Sinners are literally enslaved to the lies that make their sins seem good.
What you can do is actually very easy: Plant the truth like seeds. Don't argue. Don't get caught up in a debate. Just speak what the Holy Spirit puts peacefully into your mind to share and then silently pray. Although most of the seeds will fall on hard ground, God is tilling their soil by using hardships to get their attention. Your calling is to forgive them, sow the truth when the Holy Spirit provides the opportunity, and water the seeds with your prayers. Christ will do the rest. The days are coming when many will be set free from the devil's grip!
---
Inside the Ministry: Meet the staff

We have an awesome team of Catholic servants of Christ. I'd like to take a moment to put the spotlight on them.
Kathy Taylor, our part-time Donor Relations Assistant, has been with me the longest. She began working for Good News Ministries in 2011 when I needed someone to keep records of donations and expenses. She jumped in as our Office Assistant, and soon her work expanded to thank-you letters. Later we contracted an actual bookkeeper (Tina Bubb) and Kathy's tasks evolved to include other valuable ways that matched her talents. Thank you, Kathy!
Graciela Ramos started as a volunteer translator in 2013. Her helpfulness went above and beyond expectations. But after only a year of joyfully serving the Lord through GNM, she had to quit because her husband was retiring early and she needed to go find a job. So we hired her! Her responsibilities have gradually expanded and she became our full-time Assistant Director. Thank you, Graciela!
Lily Johana Cañón Valverde is the newest member of the staff. Since February of 2021, she has been our Social Media Manager. She and her husband moved to Miami from Columbia in 2015. Someone recommended Good News Ministries to them. They loved what we do so much that they drove more than 5 hours to our office in Tampa just to spend an hour meeting us. They wanted to get involved but they couldn't speak much English yet. Now Lily is happily doing a great job in getting our various resources out to more people through social media sites. Thanks to her, we're gaining more new subscribers at a faster rate. Thank you, Lily!
My husband Ralph takes care of our server and computers and helps out in other small ways as needed. For many years, his work in the corporate world funded GNM. Thank you, Ralph, for your awesome partnership in Good News Ministries since 1995 when we co-founded it! 
Robert Holland (the non-Catholic Christian on the team) was contracted earlier this year to re-code the daily reflections and other databases used on our websites. Thank you, Robert, for the huge discount you give us for the sake of Christ!
Tina Bubb has been our contracted, professional bookkeeper since 2018. Thank you, Tina!
YOU are an important part of the team, too. Please partner with us by keeping us in prayer (sign up @ elists.gogoodnews.net/dada/mail.cgi/list/prayernetwork) and by making a donation @ gnm.org/donate when you can. THANK YOU!
---
Watch for the exciting announcements!
Just as we were launching our zoom gatherings, my husband was hospitalized twice and then we both got waylaid by covid. In August, I will be back on track in offering Zoom meetings for faith sharing and healing.
First we'll minister to parents of adult children who have left the faith. Next, we'll do a session on knowing God's will. Since I don't have time to provide one-on-one spiritual direction, these group sessions are the best way I can serve you.
To find out what and when, watch this newsletter or subscribe for announcements @ elists.gogoodnews.net/dada/mail.cgi/list/paracletia.
---
This week's recommended faith-builder:
Dealing with the Doubters Around Us
Is there anyone in your life who doesn't accept you for how much you've grown spiritually? People who are doubters because they don't believe you about the Faith? Have you been falsely accused of doing something you never had any intention of doing? Have you been dismissed as incapable of doing what you have in fact learned to do?
In Luke 4:24-30, Jesus shows us how to handle these people.
For more on this, visit wordbytes.org/passion-spirituality/doubters.
WordBytes is a library of Catholic faith-building articles by Good News Ministries. Come on in and explore! Visit WordBytes.org today.
---
Do you know how much the Father loves you?
Do you know how much your Father God loves you? Really, really, really loves you? Usually we don't know that, because we project onto God the way human fathers have been, the way authority figures have been, the human failings that we've witnessed. Do you think God is disapproving of your sins? Do you think he is accusing you? The truth might surprise you.
Listen to this podcast @ gnm.org/footsteps95.
Or watch the video @ gnm-media.org/do-you-know-how-much-the-father-loves-you. Or if you prefer to read it, download the transcript at this link.
Sign up for early access to podcasts. New episodes of the podcast show Footsteps to Heaven are published before this newsletter goes out. You can be notified as soon as new ones are published! Subscribe at gnm-media.org for the podcast videos or at footstepstoheaven.com for the audio-only version.
---
Answer to this week's Trivia Challenge:
What language is the New Testament originally written in? Answer: Greek.
---
God bless you!
Every morning, I lift up in prayer everyone who helps Good News Ministries in any way (donors, volunteers, prayer supporters, etc.) and all the prayer requests posted on our site. What can I cover in prayer for you? Post your prayer request.
How else can the team and I serve you today? Visit our homepage.

Let's connect in GNM's own SmartCatholics community, called Good News Faith Builders. I'm available to interact with you there.
Thank you for reading this newsletter.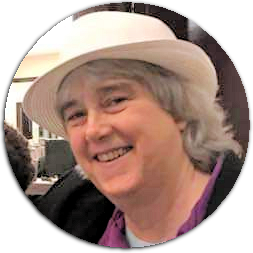 Your servant in Christ,
Terry Modica, Executive Director
Good News Ministries
gnm.org
Find this and past issues at gnm.org/newsletter. Please share what will minister to others.