Good News Reflections:
Making scripture meaningful to your daily life
by Terry Modica
---
"When we let the fire of the Holy Spirit renew us and overtake us, miracles do happen."
---
Good News Reflection for:
Memorial of Saints Timothy and Titus, bishops
January 26, 2023
Today's Prayer:
Forgive me, Lord, for not being bold, serving others with the gifts You have entrusted to me. Give me your strength to be fearless and share Your light wherever You desire. Amen.
Subscribe to Today's Saint Quote & Prayer:
gnm.org/SaintQuotes/
Today's Readings:
2 Timothy 1:1-8 or Titus 1:1-5
Ps 96:1-3,7-8a,10
Mark 3: 31-35
bible.usccb.org/bible/readings/012623.cfm
USCCB Podcast of the Readings:
bible.usccb.org/podcasts/audio/2023-01-26-usccb-daily-mass-readings
How to be fearless evangelizers
The alternate Gospel reading specifically recommended for the Memorial of Saints Timothy and Titus is Luke 10:1-9. After Jesus says, "The harvest is abundant but the laborers are few," he adds, "Behold, I am sending you like lambs among wolves." It takes courage to lead others to salvation. We live in a world where non-Christians (and sometimes even unchristian "Christians") want to subdue us with their unholy, immoral beliefs and ways.
Saint Paul said to Timothy and now says to us (today's reading from 2nd Timothy, chapter 1) that God did not give us a spirit of cowardice. The fear of speaking up about Jesus is not from God. The Holy Spirit gives us power and love and self-control. "So do not be ashamed of your testimony about our Lord," Paul says.
When we let the Holy Spirit stir up into flame our calling to share the Good News, we are given supernatural power to back up our words. Sadly, we don't see this happening today as much of the first Christians experienced. We've been influenced by a secular culture that disbelieves in the miracle power that belongs to the followers of Christ. What should be normal for us is what was normal for Christians in Paul's time. The Good News is: The Holy Spirit hasn't changed! When we let the fire of the Holy Spirit renew us and overtake us, miracles do happen.
The Holy Spirit also gives us love — love so passionate for the people around us that we become highly motivated to make Jesus visible to them. And with the self-control that the Spirit gives us, we can choose to overcome the spirit of cowardice.
Opportunities occur every day in our ordinary circumstances. Everything we do should reveal the light of Christ. Who around you is suffering through a tragedy or difficulty? They're instinctively seeking a light that will lead them to hope, to love, to healing, and to the restoration of goodness. Who around you has insufficient faith? They want to be assured that God cares; they're ready to grow.
If you feel unprepared to use current opportunities to let Christ shine from you, avail yourself of the extra grace that's available in the Sacrament of Reconciliation to become the light that you are meant to be. Let your concern for others be the fuel for your light.
To reflect more on this, use our podcast: "Defeating Satan's Biggest Strategy" @ https://gnm-media.org/defeating-satans-biggest-strategy/
© 2023 by Terry A. Modica
Please minister to others by sharing this page.
---
 To distribute the Good News Reflections in your church bulletin or in RCIA or faith sharing groups, please order a license @ Catholic Digital Resources.

 You can also receive this & more faith-builders by text message on your phone.
 Keep it going! This reflection reached you thanks to benefactors. Please support this ministry today.
 Post your prayer request.
 How else can we serve you today? Visit our homepage.
Search more reflections in our continually growing database.

Homebound, Prison & Hospital Ministers are invited to print and distribute them without further permission.

Continue your prayer time with these:
Pray with Saints | Pray the Rosary | Other Prayers | Random Quotes.
Order and share Terry Modica's books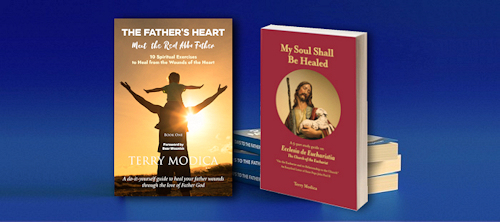 Please share this with others by inviting them to visit this page. You may also print this for your personal use and you may share the print-out with others.