Good News Reflections:
Making scripture meaningful to your daily life
by Terry Modica
---
"The transfiguration of Christ occurs again and again every time we listen to him and our faith is enlightened."
---
Good News Reflection for:
Feast of the Transfiguration of the Lord
August 6, 2023
Today's Prayer:
Dear Father, thank You because I am Your Beloved Son! Thank You for taking care of me as Your great treasure! May this truth take deep root within me so that all my life reflects Your great love for me. Amen.
Subscribe to Today's Saint Quote & Prayer:
gnm.org/SaintQuotes/
Today's Readings:
Daniel 7:9-10, 13-14
Ps 97:1-2, 5-6, 9
2 Peter 1:16-19
Luke 9:28-36
bible.usccb.org/bible/readings/080623.cfm
USCCB Podcast of the Readings:
bible.usccb.org/podcasts/audio/daily-mass-reading-podcast-august-6-2023
The Transfiguration of the Lord is within you
Atop Mount Tabor in Israel is where the pure light of Christ — the uncreated light of his true identity — was first revealed to the world. Not at his birth, not at his baptism, nor as he preached and healed. Although the Light of the World came to us in those momentous events, it was not revealed so clearly, so powerfully, so dramatically as when he let Peter, John, and James witness it on the mountaintop, as seen in today's Gospel passage.
The highest experience of faith was, and still is what happens when the Father says, "This is my beloved Son; listen to him." The transfiguration of Christ occurs again and again every time we listen to him and our faith is enlightened. It happens every time we have a breakthrough from blindness to understanding, from sinfulness to holiness, from doubt to trust. However, now we are transfigured with Jesus!
Whenever we let his uncreated light consume the darkness within us, the people around us see Christ's true identity in us. We shine with him. Therefore, it's vitally important that we give Jesus the areas of darkness that still linger within us and let him expose the truth in his light. By repenting (which means we change), we're transformed into our true identity. What is our true identity? It's our innermost being that was created in the image of God. It's our sainthood!
Listen. Can you hear God's voice saying about you what he said about Jesus on Mount Tabor? "This is my beloved child; listen to him/her." He is saying this to others as you do the work to which he's called you. Some folks will hear him, some won't, but our yes to his calling is not based on how many people will heed his voice. We serve God because we have been transfigured. Our holiness impels us to go where we can do the greatest good.
Questions for Personal Reflection:
What sins do you still try to hide or deny? Why are you afraid to let Jesus shine his light into these areas of darkness? Are you afraid he'll stop loving you? What do you do that reveals your sainthood?
Questions for Community Faith Sharing:
Describe a time when you listened to Jesus and the truth you learned from him transformed you. How did it help you become a true child of God more fully? How did it reveal your true identity more accurately?
For more on this, watch our video, "Luke 9:28-36 – The Transfiguration of Jesus" @ https://gnm-media.org/luke-928-36/
© 2023 by Terry A. Modica
---
 To distribute the Good News Reflections in your church bulletin or in RCIA or faith sharing groups, please order a license @ Catholic Digital Resources.

 You can also receive this & more faith-builders by text message on your phone.
 Keep it going! This reflection reached you thanks to benefactors. Please support this ministry today.
 Post your prayer request.
 How else can we serve you today? Visit our homepage.
Search more reflections in our continually growing database.

Homebound, Prison & Hospital Ministers are invited to print and distribute them without further permission.

Continue your prayer time with these:
Pray with Saints | Pray the Rosary | Other Prayers | Random Quotes.
Order and share Terry Modica's books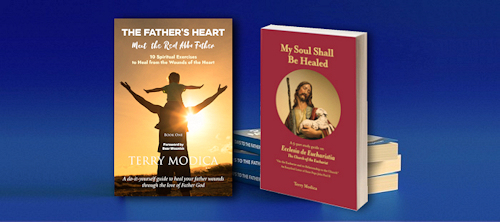 Please share this with others by inviting them to visit this page. You may also print this for your personal use and you may share the print-out with others.