Good News Reflections:
Making scripture meaningful to your daily life
by Terry Modica
---
"We don't make ministry happen; we can only participate in the ministry that God is already doing."
---
Good News Reflection for:
Monday of the 33rd Week in Ordinary Time
November 20, 2023
Today's Prayer:
Lord Jesus: In dark nights, I want to keep seeing everything through Your eyes. You are my guide, my path and my support at all times. I praise You, my God! Amen.
Subscribe to Today's Saint Quote & Prayer:
gnm.org/SaintQuotes/
Today's Readings:
1 Maccabees 1:10-15, 41-43, 54-57,62-63
Ps 119: (88)53, 61, 134,150,155,158
Luke 18:35-43
bible.usccb.org/bible/readings/112023.cfm
USCCB Podcast of the Readings:
bible.usccb.org/podcasts/audio/daily-mass-reading-podcast-november-20-2023
How to be an effective minister of the Gospel
When we see people who could benefit from knowing Jesus but they ignore him, or who need his healing love but they don't trust him, or who are suffering through trials but they're blind to the help that Jesus offers, we want to help them. And to be an effective minister of the Gospel for them, we can learn from today's Gospel reading.
Notice:
1. Jesus did not tromp over to the blind man and tell him that he could be healed. The blind man had to go to Jesus. We have to wait for others to come to us or show readiness to receive us, rather than force our help upon them. To get their attention and invite them, we make it visible that Jesus is the reason for our own faith, and we teach them what Jesus is like by imitating him. However, they have to make their own steps toward Jesus. Meanwhile, we can pay attention to how we could imitate Jesus better and more often.
2. Because people were attracted to Jesus, the blind man heard the commotion and responded. In everything we do, if we are so full of Jesus that people are attracted to us (coming to us for help, for prayer, for encouragement, for insight, or for friendship), the "blind" ones will take notice and begin to wonder if we can help them, too.
3. The moment the blind man initiated his request for help, Jesus stopped what he was doing and gave the man his full attention. We have to be willing to give our time and full attention to others at the very moment that they're ready to experience Jesus. We must not waste the opportunities they give us, even though this won't be on our time schedule (ministry is rarely convenient, but always it is God's perfect timing).
4. Only when the blind man "came near" to Jesus did he hear the invitation to receive healing. He heard: "What do you want me to do for you?" When you ask this question of those who are drawn to you, it's Jesus who's asking it through you. Their answer will tell you what they're ready to receive from him.
5. When the man asked Jesus for sight, he received both a physical and a spiritual healing. Jesus affirmed him by pointing out that it was the man's faith that had healed him. As we minister to others, we help them most effectively when we recognize and affirm the good that God is doing within them.
It's impossible to force someone to change. We don't make ministry happen; we can only participate in the ministry that God is already doing in their lives. To be successful, we must first notice where others are on their journey of faith. Then we invite them to seek what God wants to give them. If they take the next step into true faith, this faith will save them.
For more help on this topic, see our video, "Speaking the Truth Boldly" @ https://gnm-media.org/speaking-truth-boldly/.
2023 by Terry A. Modica
---
 To distribute the Good News Reflections in your church bulletin or in RCIA or faith sharing groups, please order a license @ Catholic Digital Resources.

 You can also receive this & more faith-builders by text message on your phone.
 Keep it going! This reflection reached you thanks to benefactors. Please support this ministry today.
 Post your prayer request.
 How else can we serve you today? Visit our homepage.
Search more reflections in our continually growing database.

Homebound, Prison & Hospital Ministers are invited to print and distribute them without further permission.

Continue your prayer time with these:
Pray with Saints | Pray the Rosary | Other Prayers | Random Quotes.
Order and share Terry Modica's books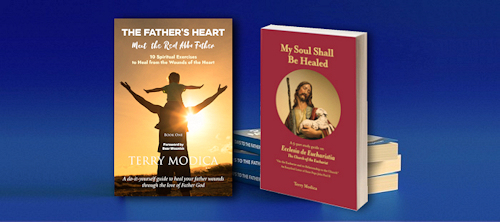 Please share this with others by inviting them to visit this page. You may also print this for your personal use and you may share the print-out with others.