Good News Reflections:
Making scripture meaningful to your daily life
by Terry Modica
---
"For all creation, in its several kinds, was being made over anew, … that your children might be preserved unharmed." (From Saturday's first reading)
---
Good News Reflection for:
Saturday of the 32nd Week in Ordinary Time
November 18, 2023
Today's Readings:
Wisdom 18:14-16; 19:6-9
Psalm 105:2-3, 36-37, 42-43
Luke 18:1-8
bible.usccb.org/bible/readings/111823.cfm
USCCB Podcast of the Readings:
bible.usccb.org/podcasts/audio/daily-mass-reading-podcast-november-18-2023
The Catechism's prophecy about today's persecutions
Are you familiar with the Catechism's prophecy about today's persecutions?
"Before Christ's second coming, the Church must pass through a final trial that will shake the faith of many believers. The persecution that accompanies her pilgrimage on earth will unveil the 'mystery of iniquity' in the form of a religious deception offering men an apparent solution to their problems at the price of apostasy from the truth." (para. 675)
I'm pointing this out, not because I believe Christ's second coming is imminent but because, these days, we're experiencing persecution in all kinds of ways. The Catechism's prophecy about today's persecutions points to that reality. We're now living in a time when we must stand firmly on the side of Christ and reject apostasy. As a result, if we're faithful to scripture and the true teachings of the Church, we likely have family members who are rejecting us because of it.
We are joining Jesus on the Cross.
CCC paragraph #677 says: "The Church will enter the glory of the kingdom only through this final Passover, when she will follow her Lord in his death and Resurrection." In other words, by going to the Cross with Christ, we will enter into an outstanding Resurrection.
This section of the Catechism continues with a prophecy that might pertain to our times, which is very exciting, but even if it doesn't, it nonetheless describes what happens every time the Church is infiltrated by evil and then purged and renewed:
"The kingdom will be fulfilled, then, not by a historic triumph of the Church through a progressive ascendancy, but only by God's victory over the final unleashing of evil, which will cause his Bride to come down from heaven."
In modern times, we've been witnessing the unleashing of demonic strategies that sneaked up on us so gradually that, at first, many good Catholics saw no reason for alarm, let alone repentance. Then, when it became alarming, we felt powerless to stop it. Many of us closed our eyes to it while we said our prayers quietly. Now it's become so blatant that it's obvious that we're in a war against evil.
We, the Church, are undergoing painful purification through persecution. However, the most destructive persecution is not the burning of churches and the killing of Christians; it's a quiet cancer spreading through the body. The enemies of God have seduced many Christians into compromising with the ways of the world.
Vatican Council II made it easier for the Church to change the world, but we've let the world change us instead. Many Catholics have been blending in with the world no matter how immoral the world gets. And those of us who refuse to fall into this trap are increasingly persecuted because our persecutors do not want to be challenged by our holiness.
Why has God allowed this? Because no other trial will bring about as much renewal of the Church as this. It raises up a faithful remnant — the true believers who refuse to compromise with the world, the God-fearing ones who act and talk very differently than the world.
In fact, as we willingly go to the Cross by growing in holiness, we follow our Lord to Resurrection. We are renewed purer, humbler, stronger in faith, more enlightened, fully alive in the Holy Spirit — a much healthier Church.
The Catechism's prophecy about today's persecutions is not a reason to fear! Persecution always leads to a great multiplication of conversions.
© 2023 by Terry A. Modica
---
 To distribute the Good News Reflections in your church bulletin or in RCIA or faith sharing groups, please order a license @ Catholic Digital Resources.

 You can also receive this & more faith-builders by text message on your phone.
 Keep it going! This reflection reached you thanks to benefactors. Please support this ministry today.
 Post your prayer request.
 How else can we serve you today? Visit our homepage.
Search more reflections in our continually growing database.

Homebound, Prison & Hospital Ministers are invited to print and distribute them without further permission.

Continue your prayer time with these:
Pray with Saints | Pray the Rosary | Other Prayers | Random Quotes.
Order and share Terry Modica's books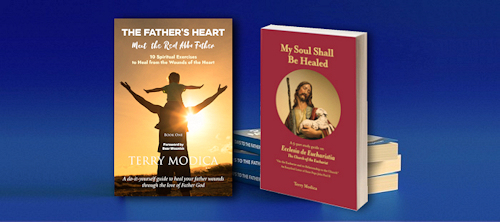 Please share this with others by inviting them to visit this page. You may also print this for your personal use and you may share the print-out with others.