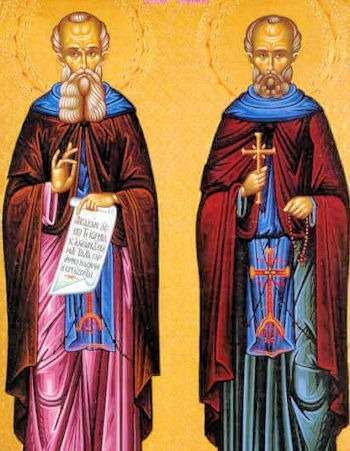 Dear Jesus, Saints Basil the Great and Saint Gregory Nazianzen were dear friends, united in love for You.  Inspired by their example, I want to grow in my friendship with You.  Bless every alliance in which I'm involved, and if any are not of You, remove them from me.  I ask Saints Basil the Great and Saint Gregory Nazianzen as special saints to pray that I grow in patience, understanding, and service to the people God has placed in my life.  Help me, Lord Jesus, to give to You all the grudges, resentments, misunderstandings, and prejudices that have been interfering with my friendships. Replace these sinful tendencies with Your Perfect Love.  Saints Basil and Gregory, pray for me.  Amen.
---
Quotes for Today
Saint Gregory of Nazianzen, Doctor of the Church (330-390 A.D.)
Different men have different names, which they owe to their parents or to themselves, that is, to their own pursuits and achievements. But our great pursuit, the great name we wanted, was to be Christians, to be called Christians."
---
Saint Basil the Great, Doctor of the Church (329-379 A.D.)
Boasting of God is perfect and complete when we take no pride in our own righteousness but acknowledge that we are utterly lacking in true righteousness and have been made righteous only by faith in Christ."
As for whatever share of glory you have received through your good works, that you can take with you to the Lord. All the people will stand round you in the presence of Him who judges you all: they will acclaim you as one who feeds the hungry and gives to the poor, they will name you as a merciful benefactor."
---
The prayer above is from Terry Modica's book Daily Prayers with the Saints.
Sign up free to receive these posts — and be sure to share them!
More:
⤷ Daily Prayers and Saint Quotes:
Pray with the Saint of the Day and be blessed by inspirational quotes of Saints. These faith-builders will help you grow in joyful holiness.
⤷ The Saints Resource Site:
A comprehensive list of Saints' names, their meanings, their Feast Days, and information about their lives.
⤷ Calendar of Saints:
Find Saint Quotes and Prayers with Saints for any day of the year.